Project Phasing & Collaboration Process
The projects we design can range from large institutional, urban design, commercial, multi-family residential, single family residential and green roof projects. The clients for the aforementioned project types can range from building architects, civil engineers, individual property owners, condominium associations, property management companies and board members of a religious, or university institution (sometimes we are a sub-contract designer to an architect on a project that involves several design team members, or contract directly with the project client by ourselves, depending on the project type and its inherent requirements). No one contract is alike, and the structure & phasing involved can vary per project, but tends to encompass the following general description and sequence:
Concept Design / Schematics
project kick-off: following the initial intro meeting between us and a potential client and signing into a project together, we typically like to have an overview discussion to re-cap items mentioned in our first inquiry meeting, as well as extrapolate in more detail the scope of the project & client goals for proposed items being introduced into the landscape.

documentation of existing physical site conditions (KBLA measurement and photo documentation of existing site conditions)

information gathering relevant to preliminary design work, feasibility study and analysis of site/existing patterns of use: Depending on what all may be included in the project scope of work, a separate surveyor/company may be needed to conduct a site survey. Surveys often include items such as existing: site topography, overhead and underground utilities, hardscape elements (walls / pavement / freestanding structures), vegetation, property boundaries, easements and setbacks, as well as existing soil conditions. The survey is often needed early on, to both understand the characteristics of the existing site in detail and understand the property's envelope of space, as well as know what we are legally and mechanically aloud to introduce into the site environment. Some projects may be of the size and scope, to not warrant the need for a site survey and any relevant characteristics of a project site can be measured and recorded by us, to use in our design work. If a site survey is required, we would facilitate the acquisition of a surveyor to contract into the project.

This phase includes the delineation of preliminary plan design alternatives & concepts for client review and feedback, and this is conducted in a series of iterative steps & progress review meetings. An example of how this may play out: we may produce two, or three plan design concepts for the project, to which the client may choose one concept and reject the other alternatives, or they may like specific pieces of all three, that we then combine / synthesize into one plan. After receiving client feedback, we use this information to produce a refined composite plan design.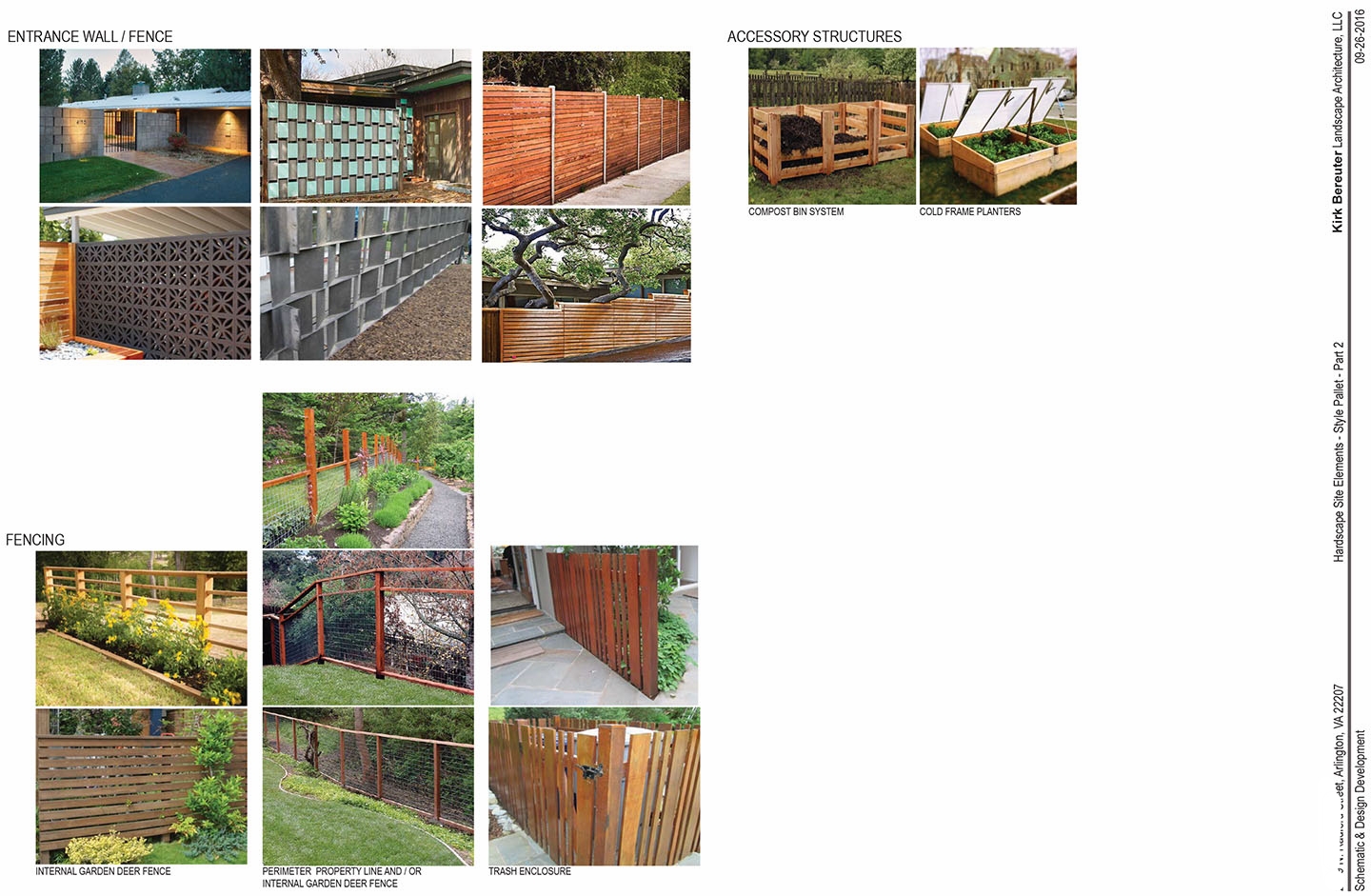 Design Development / Design Refinements:
This is the step where we take the final "concept design" mentioned above and produce a more precise measured layout, design detailing & product/material selection for client review and feedback in a series of iterative steps and progress review meetings. The final design developed within this phase is then used to produce Construction/Permit Documents mentioned below. Sometimes we will condense the "Concept Design" and "Design Development" phases into one phase if the project is small enough and it's apparent that the design work involved can be more rapidly fast-tracked (we should also note that sometimes the bidding out to contractors and building / installation of a project may only require the design work be taken to the end of a concept phase, or end of a design development phase if it's apparent that what needs to be built doesn't require permit application and / or more intensive construction documents beyond what is outlined and drawn within the concept and design development phases).
Construction/Permit Documents:
construction/installation drawings, details and specifications produced for any necessary construction permit acquisition, contractor removal & demolition of existing site elements, protection of property items to remain and implementation of approved final Design Development phase design. We utilize a permit expediter to acquire any necessary permit acquisition and the construction drawings are included in their permit application package. The site survey mentioned in "Schematic / Concept Design" above, is typically used as a base plan of existing conditions, to then generate construction and permit documents, showing the county or city jurisdiction, as well as the contractor what is being built within and superimposed upon the project site.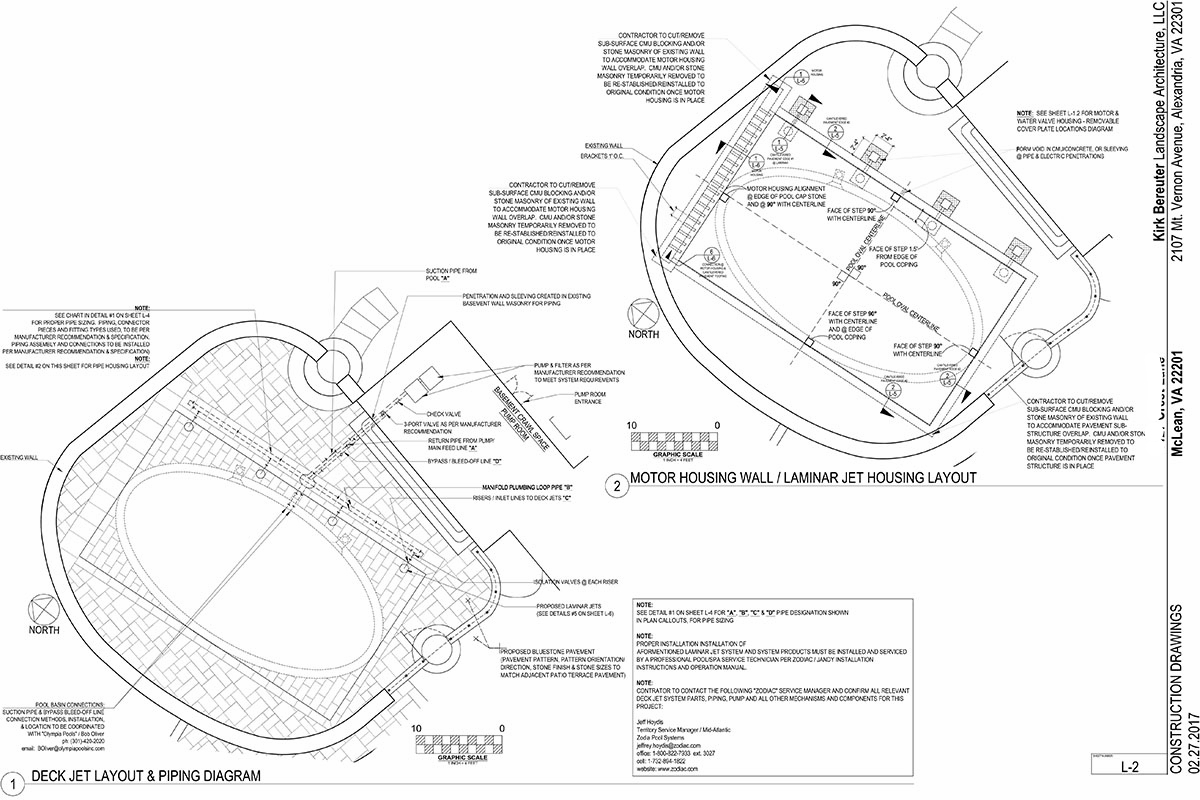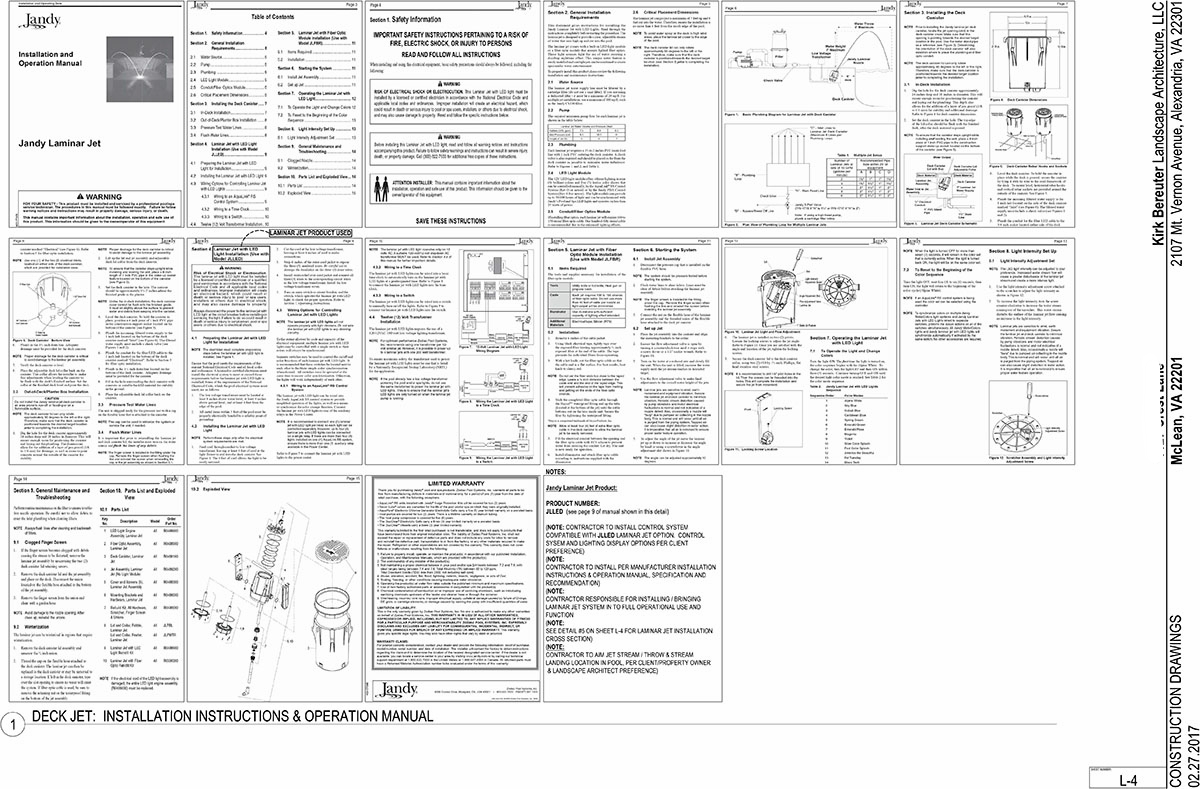 Bid Assistance:
This is the step in which we assist the client with putting together a list of potential reputable landscape contractors, acquire construction contract bids from them & ultimately aid in the final selection for award of construction contract.
Construction Administration:
This involves the periodic KBLA oversight of contractor installation of the final design work detailed in the construction drawings. The close-out of a project will often times include the development of a punch-list of outstanding items for the contractor to complete before final client sign-off.
As mentioned above, no one contract is alike, and the structure & phasing involved can vary per project. Upon meeting and evaluating the client's desired project goals, the phasing and scope of proposed design work will be laid out within our proposal for design services and then submitted to the client for their review. This proposal may help to outline and clarify what is involved in the design process, the steps ahead as well as a any general timeline for our collaboration.
Content Copy: Kirk Bereuter Landscape Architecture, LLC. All rights reserved